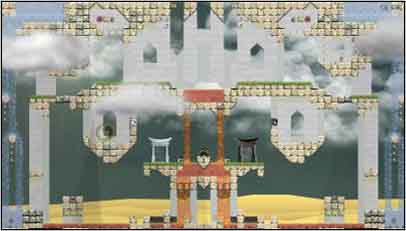 ZEN PATHz NEWS PHOTOS STORE CONTACT US
Overview:
Zen Pathz is a unique fighter/platformer hybrid offering a variety of casual
play and competitive tournament modes. Simultaneously control an avatar
and brush to alter destructible terrain like never before. Detain, drop,
and dispatch opponents while overcoming their same attempts at you.
Master the duality to create your own zen path to victory.
Features:
-Play SINGLE PLAYER, CO-OP, TEAMS, or AGAINST one another.
-Multiplayer Drop-In / Drop-Out, and Online play.
-Simultaneously control avatar and brush in a variety of objective based
combat and adventure modes.
-Hundreds of fun levels included with the game.
-DOWNLOAD, EDIT, and UPLOAD your own levels.
-Journey co-op or competitively through randomly generated worlds.
-Solid game mechanics refined over tournament play across the US.
-Advanced handicap system allows mixed skill levels to play together.
-Built from the ground up with ultra high skill ceiling for competitive play.
-Unlock new avatars, abilities, items, levels and more.
Copyright © 2011-2017 Limn Interactive, LLC. All rights reserved.